I am going to be cross stitching a World of Warcraft square for this years Sprite Stitch Childs Play quilt. Last year over at Sprite Stitch they came up with the brilliant idea of getting a load of gaming crafters together to do a project for charity. The charity they chose was Child's Play. Child's Play in their own words are:
A

game industry charity dedicated to improving the lives of children with toys and games

in our network of over 70 hospitals worldwide
Having had a child in hospital for a short amount of time, I can completely appreciate what a difference this would make. Also it is really nice to see Gamers in a positive light!
In the end Sprite Stitch created a beautiful quilt, with each person doing one (or more) squares completely cross stitched from different video games.
This is what it looked like completely finished: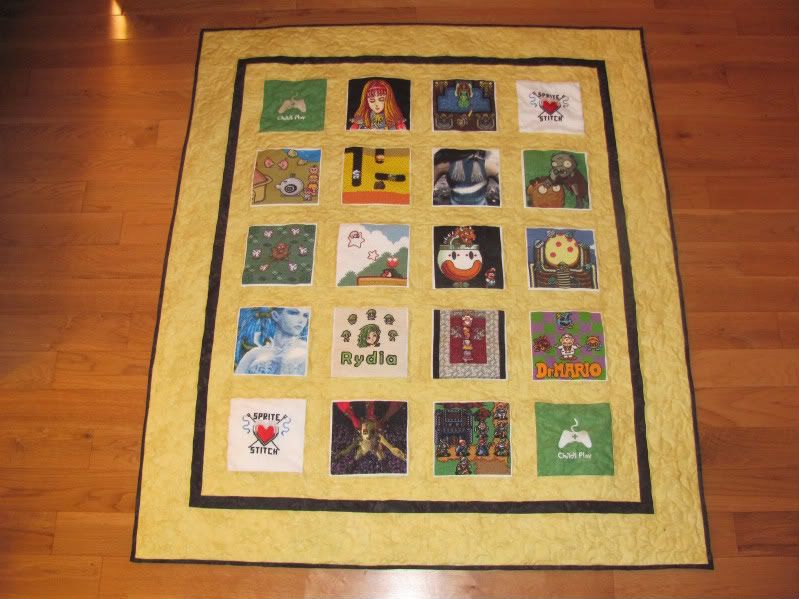 Each square was completed separately and then all put together. Well in December it went to the Child's Plays dinner auction and raised over $2000! And they are doing another one this year!!!!
Having missed this last year I jumped at the chance to get involved. From the looks of things so far they may well need to do two quilts because so many people have signed up!
This is going to be my square:
For those of you not in the know, this is a Murloc from World of Warcraft! Once I'd (finally) found an image I liked and would suit all the requirements several very kind people turned it into a pattern for me. All I have to do now is get the supplies in and get started. This doesn't have to be sent off until August so I have plenty of time. But I am very excited to be part of it this time around!
Pin It